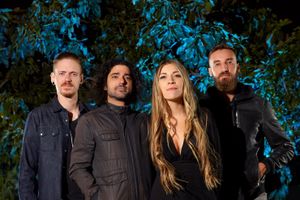 BIO
Little Galaxies is a band formed in Venice Beach, California by Jeanna Fournier and Amir Eshraghi. From glittering guitars to smooth tropical grooves, their sound draws influence from psych-rock and dream pop while experimenting with multi-dimensional textures to create a sonic dreamscape of their own. Joined by Andreas Sandnes on bass and Lucas Crouch on drums, their enigmatic live shows hypnotize audiences as they explore the outer limits through interstellar tones, off-the-wall theremin performances, and vocals drenched in echoes that soar through the cosmos. 
The first single "Out in Control" from their latest album 'One with the Waking Sea' received spins on LA's world-famous KCRW radio station by tastemaker Jose Galvan who also played songs from the album on Amazing Radio. The final single "Waking Sea" was premiered on LA's KCSN 88.5FM by Nic Harcourt, former KCRW music director, who featured the song as the "Fresh Squeezed Track of the Day." The song was also featured by Kevin Bronson on Buzzbands LA and his KCSN radio show, Byron Gonzalez on Latin Alt Radio, the Witching Hours on KXLU 89.9FM, and Grimy Goods' "Best New Song Releases of the Month" Spotify playlist. Little Galaxies was also featured in Music Connection in their "DIY Spotlight" by LA Weekly music editor, Brett Callwood, around their album release. 
Following their debut album 'Patterns' in 2013, Little Galaxies played shows and festivals all over Southern California, toured up the West Coast and to Austin, Texas. Their music has caught the attention of several notable music blogs including Earmilk, Buzzbands LA, OC Weekly, and Music Connection. They won The Deli Magazine's "Emerging Los Angeles Artist of the Year" award with a feature in their SXSW print edition and Radio KSCR's "Best Music Video" & "Best Feel Good Video" awards for their debut single "Tonight." They wrote the feature song for the award-winning documentary SOS: The Salton Sea Walk, which they composed at the request of the Mayor of the Salton Sea's West Shores. 
After a 3 year hiatus when Fournier was seriously injured in a car accident, Little Galaxies made a return to the stage in 2018 with packed shows at LA's premiere venues, residencies and festivals including The Satellite, Bootleg Theatre, Hotel Cafe, and Echo Park Rising. On the verge of releasing their 2nd LP with a headlining performance at the legendary Troubadour, the show and tour was cancelled due to the pandemic. 
Little Galaxies re-emerged last summer with their sophomore LP 'One with the Waking Sea' released on Coconut Spaceship Records. The album was inspired by Fournier's car accident, taking listeners on a sonic journey through her awakening and making peace with her fears after this life-altering event. Recorded and co-produced by Sejo Navajas at the historic 4th Street Recording Studio in Santa Monica (The Beach Boys, No Doubt, Incubus), mixed by Andreas Sandnes, and mastered at Capitol Studios by Grammy Award-Winning mastering engineer, Evren Göknar. The band is currently working on more new music and lining up shows for 2022.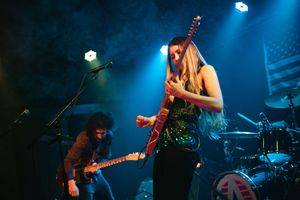 "

Through headphones, Little Galaxies' music, upheld by singer Jeanna Fournier's smoky vocals, can blow you away, so just imagine what it can do during a live set." "
— OC Weekly